Who we are
OUR PASTOR FRANK KISS
A man who has a passion to serve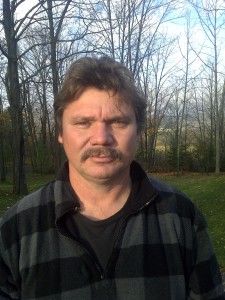 Hello "how in the heaven are you"?. Most people do a double take when I ask that question, but I tell them why should hell get the glory when after all it is God who created us and the heavens. Hell is a nasty place and I wish no one to go there, so I truly am interested in hearing about the positive aspect of a person's life and their thoughts of heaven and God.
More
Mission statement
"Taking Jesus as He is to people as they are"
As a small church our mission is great, to serve Crystal Beach/Ridgeway and the surrounding community in a capacity that  reflects the gospel of Christ. We have an acronym that we use for our mission statement in order to help us keep this commitment. this acronym spells out the word "KLOE"
K – bringing people to a genuine knowledge of God, Christ and the Holy Spirit.
L – helping people to understand the love of God and to show the same type of love to those arounds us and the world.
O – having an obedient/ honouring life style to God
E – exalting God in everything we do because He is God, creator of everything.
What we believe
We believe that the Bible is the inspired Word of God and the final authority for faith and practice.
We believe that the Scriptures reveal the triune God whose person, nature, and character forever is God the Father, Son, and Holy Spirit. God is the source and foundation of all that is. God has established order and relationships within creation.
We believe that God created man and woman in His image. Because human beings chose to disobey God, their nature became sinful, resulting in alienation from God, from one another, from themselves, and from the rest of creation.
We believe that Jesus Christ, God's Son, came to earth to reveal the Father and to provide God's only plan of salvation for sinful humanity. New life in Christ is given to all who turn from evil through faith in the sacrificial death and resurrection of Jesus Christ. The Holy Spirit enables the believer to make full surrender to the work of Christ and to walk in the fullness of the Spirit's power.
We believe that the Holy Spirit works in the world, intercedes for the believer, and is present in the life of the church, gifting persons for witness and service. The church is God's primary means for worship, fellowship, evangelism, and discipleship.
We believe that the return of Christ in power and glory is certain and may occur at any time. The final destiny of all things is in God's hands. God will judge righteously at the close of the age. All created things will be brought to their proper order in the eternal Kingdom
Our Core Values
Experiencing God's Love and Grace
We value the free gift of salvation in Christ Jesus and the transforming power of the Holy Spirit.
Believing the Bible
We value the Bible as God's authoritative Word, study it together, and build our lives on its truth.
Worshiping God
We value heartfelt worship that is God-honouring, Spirit-directed, and life-changing.
Following Jesus
We value wholehearted obedience to Christ Jesus through the empowering presence of the Holy Spirit.
Belonging to the Community of Faith
We value integrity in relationships and mutual accountability in an atmosphere of grace, love, and acceptance.
Witnessing to the World
We value an active and loving witness for Christ to all people.
Serving Compassionately
We value serving others at their point of need, following the example of our Lord Jesus.
Pursing Peace
We value all human life and promote forgiveness, understanding, reconciliation, and nonviolent resolution of conflict.
Living Simply
We value uncluttered lives, which free us to love boldly, give generously, and serve joyfully.
Relying on God
We value and confess our dependence on God for everything, and seek to deepen our intimacy with Him by living prayerfully.