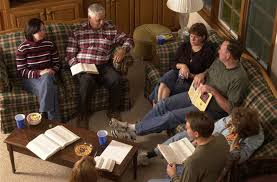 Hi Everyone we are going to start small/life groups at the end of February. These groups will be meeting 3 to 4 times a month. we believe that small/life groups or as we like to call them smife groups are essential and key to the Christian way of life. These groups are designed to encourage, help, and build each other up in the group. Lets face it life is hard so why try to do it alone when you can be a part of a group that is like a family and who serve an awesome God. If you are looking for a chance to connect and to feel that you are a part of something then contact our ministry team and plug into a group today!
Some food for though on small groups!
Stephen Ministries in St. Louis, has done a good bit of research into this question. Based on surveys and conversations with thousands of individuals, both inside and outside the church, four primary longings have been identified that people look to have fulfilled. In the context of churches/small groups, these four needs are:
Spirituality — helping people experience Jesus and His saving power in their lives
Community — helping people experience Jesus in one other, giving them the sense that they are connected to a "body," a loving community, as well as to the Creator and Sustainer of all things
Care — helping people experience Jesus in their pain and suffering. When many people are most clearly in need of the gospel and most open to God's presence and the healing, saving power of Jesus
Service — helping people experience meaning, purpose, and significance by participating in Jesus' mission in the world and being involved in something that is not only bigger than themselves, but also life-transforming and enduring
These longings make sense Biblically, as well. How well a congregation or small group meets these four longings can be a significant indicator of its overall health and ability to be in mission with Jesus.